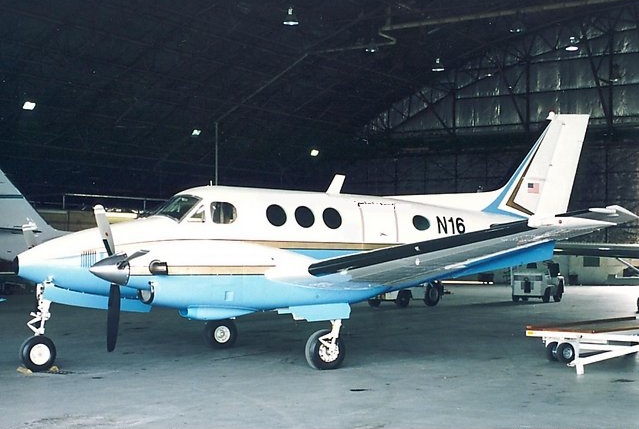 Beechcraft VC-6A 66-7943
on display at the U.S. Air Force Museum.
Once used by President Johnson.
The VC-6A is a ten-place turboprop executive transport that was operated by the 89th Military Airlift Wing at Andrews AFB, Maryland, to transport visiting dignitaries and high-level government personnel. It is a standard Beechcraft King Air B90 with a "VIP" interior and is the only one of its type purchased by the Air Force. The aircraft's features include full pressurization for travel comfort at high altitudes, and all-weather navigation and de-icing equipment for all-around utility.
This aircraft was placed in service in early 1966. During the early part of its operational career, it was used to transport President Lyndon B. Johnson and members of his family between Bergstrom AFB, TX, near Austin, and the Johnson family ranch near Johnson City. During this time, the aircraft became informally known as the "Lady Bird Special." After leaving presidental service, the VC-6A continued in its special executive transport role with the 89th Military Airlift Wing until it was retired at the USAF Museum.
The aircraft was flown to the Museum on September 6, 1985.
SPECIFICATIONS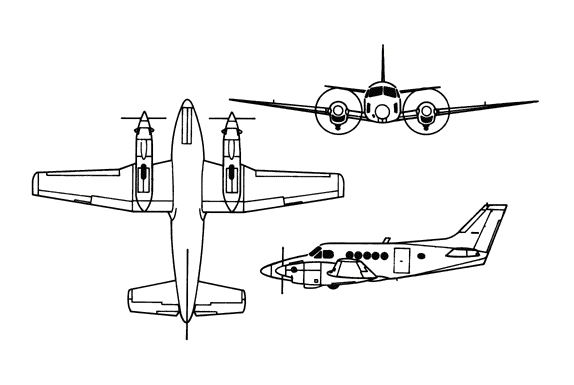 Span:
50 ft. 3 in.
Length:
36 ft. 6 in.
Height:
14 ft. 8 in.
Weight:
9,705 lbs. max.
Armament:
None
Engines:
Two Pratt & Whitney PT6A-20 turboprop of 550 hp. ea.
Crew:
Two
Cost:
$436,000
Serial number:
66-7943
C/N:
LJ 320
PERFORMANCE
Maximum speed:
256 mph.
Range:
1,400 miles
Service Ceiling:
32,900 ft.