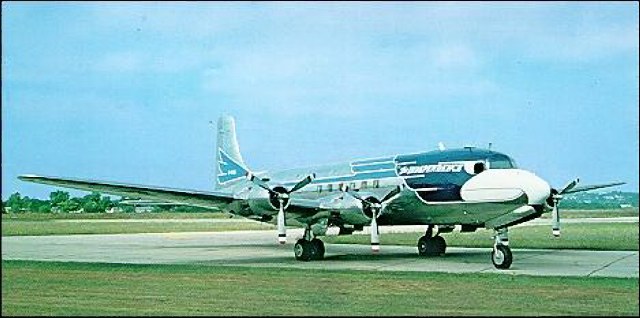 DOUGLAS VC-118 "Independence"
The VC-118 was a military variation of the Douglas DC-6 commercial airliner. In 1947, USAAF officials ordered the 29th production DC-6 to be modified as a replacement for the aging
VC-54C "Sacred Cow"
Presidential aircraft. It differs from the standard DC-6 configuration in that the aft fuselage was converted into a stateroom; the main cabin seated 24 passengers or could be made up into 12 "sleeper" berths. The VC-118 was formally commissioned into the AAF on July 4, 1947, and was nicknamed "Independence" for the President's hometown in Missouri. Probably the plane's most historic flight occurred when it carried President Truman to Wake Island in Oct. 1950 to discuss the Korean situation with Gen. Douglas MacArthur.
Beginning in 1951, the USAF purchased 165 C-118A "Liftmasters" which were about six feet longer than the "Independence." C-118As played a key role in "Operation Safe Haven" during which 14,000 Hungarian refugees were airlifted to the U.S. in 1956-57.
In May 1953, after nearly six years of White House service, the "Independence" was retired as a Presidental aircraft and subsequently served several Air Force organizations as a VIP transport. It was retired for display at the USAF Museum in 1965. In 1977-78 Museum personnel restored "Independence" to its former Presidental markings and eagle-like paint scheme.
SPECIFICATIONS
Span:
117 ft. 6 in.
Length:
100 ft. 7 in.
Height:
28 ft. 5 in.
Weight:
93,200 lbs. max.
Armament:
None
Engines:
Four
Pratt & Whitney R-2800
s of 2,400 hp. ea. (with water injection)
Cost:
$1,180,000
Serial number:
46-505
PERFORMANCE
Maximum speed:
360 mph.
Cruising speed:
320 mph.
Range:
4,400 miles
Service Ceiling:
31,200 ft.