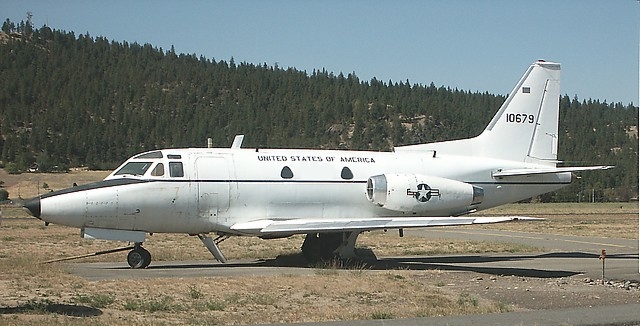 Rockwell T-39A Sabreliner 10679
NORTH AMERICAN T-39A
The T-39 was developed by North American Aviation Inc. as a private venture to meet a USAF requirement for a twin jet utility trainer. The prototype T-39 made its first flight on September 16, 1958. In January 1959, the USAF placed a production order and on June 30, 1960, the first production T-39A made its initial flight. In all, 143 T-39As and 6 T-39Bs were built for the USAF. Another 62 T-39 variants were produced for the Navy. After the bulk of military contracts had been met, the Sabreliner entered the commercial market where it became a highly successful executive jet transport.
The T-39A on display was delivered to the USAF on June 6, 1963. It was transferred to Europe and flew missions there until damaged in a crash in 1966. It was repaired by the manufacturer and returned to service in August 1967. From August 1968 until early 1973, this Sabreliner was assigned to Bergstrom AFB, Texas, in support of former President Lyndon B. Johnson. After undergoing a fatigue life extension program, the aircraft was sent to Andrews AFB, Maryland, where in 1974 it began flying as a test bed for state-of-the-art avionics equipment and as an administrative airlift support transport. This T-39A was flown to the Museum on October 24, 1984.
SPECIFICATIONS
Span:
44 ft. 6 in.
Length:
44 ft.
Height:
16 ft.
Weight:
18,650 lbs. loaded
Armament:
None
Engines:
Two Pratt & Whitney J-60s of 3,000 lbs. thrust each
Crew:
Two plus seven passengers
Cost:
$810,000
Serial number:
62-4478
PERFORMANCE
Maximum speed:
538 mph.
Cruising speed:
500 mph.
Range:
1,700 miles
Service Ceiling:
42,000