LOCKHEED VC-140B "JETSTAR"
The C-140 is a military version of the Lockheed Model 1329 light jet transport. The prototype Jet Star was first flown on September 4, 1957, only 241 days after design completion. Production began in 1960. Although the majority of those produced were built for the civilian market, the U.S. Air Force bought 16 Jet Stars as C-140As and -Bs, the first of which was delivered in late 1961. Five C-140As were assigned to the Air Force Communications Command for use in evaluating military navigation aids and operations. Eleven C-140Bs were assigned to the Miltary Airlift Command for operational support airlift. Six of them were flown as VC-140Bs on special government and White House airlift missions by the 89th Military Airlift Wing at Andrews AFB, Maryland.
The VC-140B on display carried Presidents Nixon, Ford, Carter and Reagan a number of times, although it was not the primary presidental aircraft. Whenever the President was aboard, it flew under the radio call sign "Air Force One." This Jet Star ended its 26 years of service when it was flown to the USAF Museum on July 16, 1987.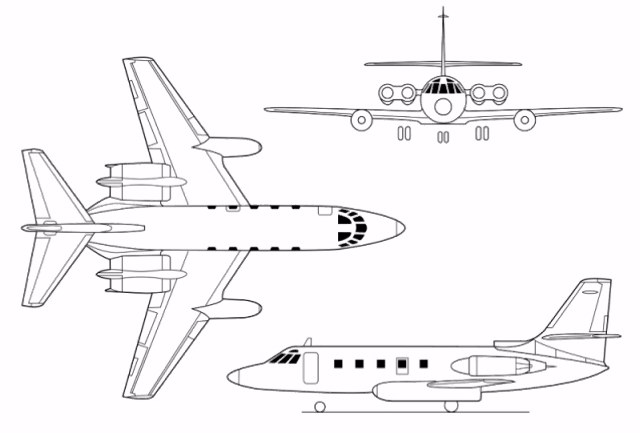 SPECIFICATIONS
Span:
54 ft. 11 in.
Length:
60 ft. 5 in.
Height:
20 ft. 5 in.
Weight:
41,000 lbs. max.
Armament:
None
Engines:
Four Pratt & Whitney J-60 turbojets of 3,000 lbs. thrust each
Crew:
Four (plus eight passengers)
Cost:
$1,771,000
PERFORMANCE
Maximum speed:
598 mph.
Cruising speed:
520 mph.
Range:
2,200 miles
Service Ceiling:
45,000 ft.